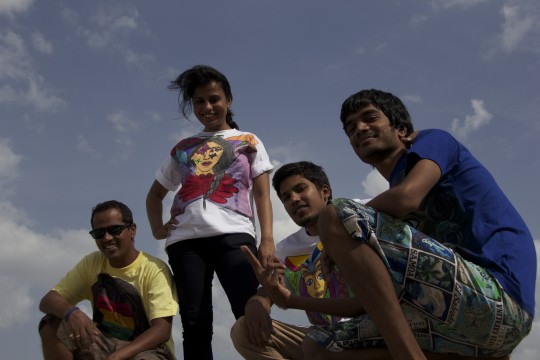 Buried deep in the Hyderabad artist scene is Preethi Manepalli, an artist painting soulful, spiritual themes.
A Media Manager at Google Inc during the day, Preethi transforms into 'Art in Soul', a nom de guerre she chose to express her euphoric art on canvas as simple as T shirts and shoes. Preethi's art bears resemblance to Pablo Amaringo's visionary Ayahuasca paintings and Alex Grey's surreal universe. Her works like "Trikaal Darshi" and "Bhoomi Devi" have significantly expressive moods created by the choice of colors and the presence of big, oval eyes.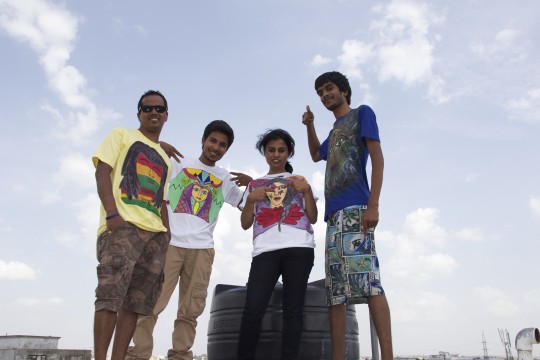 When she is not painting her spiritual visions on T shirts, Preethi paints quirky, fun stuff on canvas shoes, both for fun and for clients. "My first attempt at painting was in April, 2011″ she says, "when I painted a canvas shoe for a colleague's daughter in Bangalore. I was pretty happy with the way they turned out and I soon laid my hands on a t-shirt that had a tea stain right on the front – and the end result amazed me!" Although she hadn't studied art formally, she is looking forward to enroll herself in art classes soon. Painting is a creative rush for her, she finds herself painting wood, fabric, shoes, bags, walls and anything she could lay her hands on!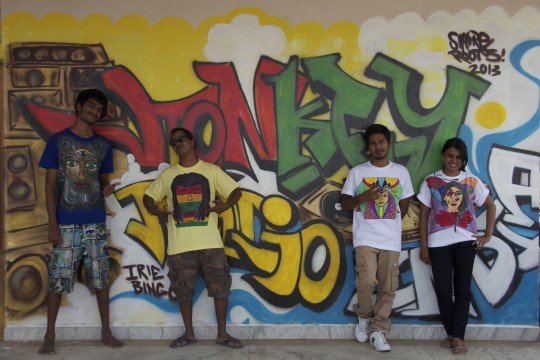 Monkey Radio India caught up with Preethi, Kiran and Younus at Monkey Studio, here is Esamiya Bazar for an exchange of ideas. A brief interview with Preethi is published here –
Why do you love painting? What has been your inspiration?
Painting keeps me sane and offers escapism, but when a picture is completed, I return to the real world experiencing fulfillment and happiness! Painting has definitely made my life more interesting and gives me some incredible energy.
How has your journey been so far? How did Art in Soul happen in Hyderabad?
In the last year, I've enjoyed everything I've produced and am totally embracing it while having a fun time in the process. Having lived in Bangalore all my life, I relocated to Hyderabad earlier this year. The thought of starting something on my own had crossed my mind long ago, but I thought this was the right moment. A new city, new experiences, and a new start made me want to try my luck with this.
I am truly grateful that I had the chance to meet some fantastic people here, who have been of constant motivation and help.
What are your Future Plans?
Right now it's a whirlwind of excitement for me. I've never been very good at sketching something out first; hence, I hope to enroll in an art school/workshop. However, I am constantly learning new tricks, thanks to YouTube! I trust the future brings new opportunities, increase in orders for custom work, a few sales, and most importantly, I cant wait to see what I learn
Why the name 'Art in Soul' ?
I have tried various forms of art like dancing, singing etc., but when I tried painting, it was euphoric. It gave me a sense of inner peace, indescribable joy and healing. I strongly felt this form of art was a reflection of my soul and hence the name 'Art in Soul'.