Kalamandalam Sivadas a native of Kerala has been practicing Kathakali from a long time and has an experience of 32 years. In town for a performance with his troupe at The Park, Rajeev Khandelwal was able to catch him for a brief Interview. Rajeev is a physiotherapist, an avid Bird photographer and an animal rescuer.
Rajeev (RK): What was the performance in Hyderabad about?
K Srinivas (KS): The performance at The Park today was for a promotion for Kerala Tourism.
Rajeev (RK): What is the difference between Kathakali and Kalaripayattu?
K Srinivas (KS): One is a dance form and the other is a form of Martial arts.
Rajeev (RK): Is Kalaripayattu predominantly a form of martial art or entertainment?
K Srinivas (KS): Not really for entertainment, It's purely martial arts.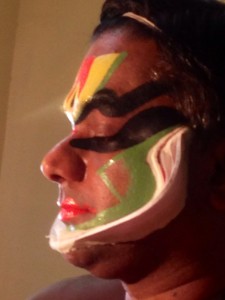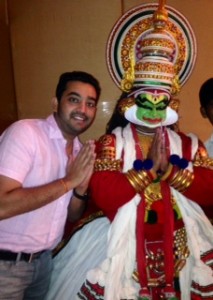 Rajeev (RK):
Can kathakali be practised without the makeup?
K Srinivas (KS):
Yes, Kathakali can be performed without make up while teaching to students. For example, the first stage Arangaetram, when the student goes on the stage for the first time, is performed without makeup.
Rajeev (RK): Do Kathakali artists smoke ganja?
K Srinivas (KS): Not really, but drinks for sure after a stressful days work!
Rajeev (RK): How do you achieve the Blood-red colour in the Kathakali dancers' eyes?
K Srinivas (KS): Generally, the dancers place the 'Chudanga' seeds under their lower eye lids before the performance, which turns the white of the eyes to a deeper red.
Rajeev (RK): How many years have you been doing this?
K Srinivas (KS): I have been doing Kathakali since 1982 and gave my first performance in 1984 after which I have performed in Italy, France, Russia, Australia, Kuwait, USA, Germany to name a few. France is my favorite city.
Rajeev (RK): Do you get sponsorship from state govt for practicing art?
K Srinivas (KS): Yes,the state and central government has given us some Stipend but that doesn't really help us.
Interview by Rajeev Khandelwal.