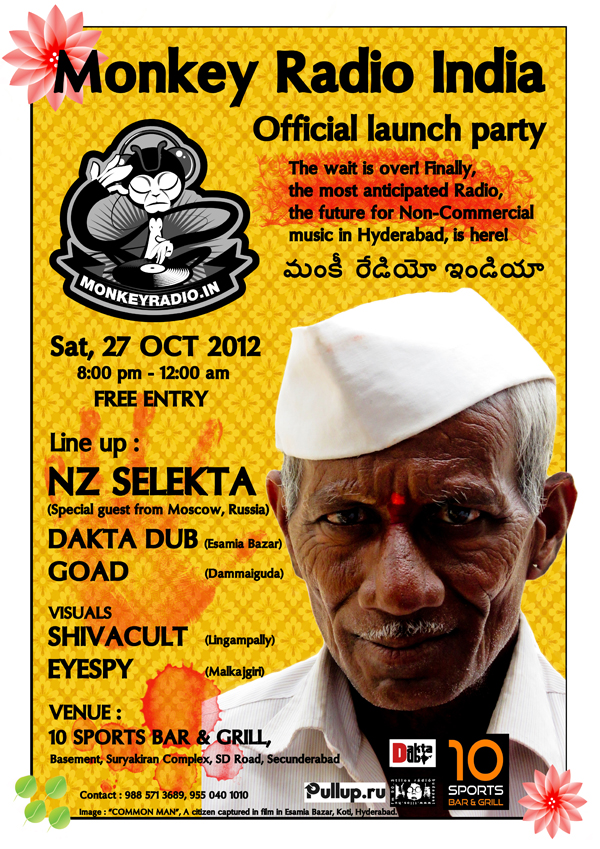 In what is the happiest day for Monkey Foundation, we are hosting the Official launch party, which is also the third installation of DUBin & STEPin. 27th October is a very special day for the crew, with Roman NZ selekta flying in from Moscow for the event.
The radio, conceptualized by Balasubramaniam in 2007 went through a lot of intense phases, battling out everything from sorting out documents to obtaining an NGO (Yes, we're an NGO!) in 2011. After carefully scrutinizing the effort needed for making a physical FM channel, we have decided to kick it start as an online radio.
The launch party on the 27th will be presided over by NZ selekta, a special vinyl set by Dakta Dub, Selekta Goad launching himself as "Mr. Nobody" and visuals by Shivacult and Eyespy. The location at 10 Sports Bar & Grill has been specially catered to our needs.
The Monkey studio at Esamia Bazar, Koti has been updated with a set of computers and other peripherals to carry the Radio forward from the launch. Special mention should me made about Gergely Laszlo-Zwickl, who is in Budapest, Hungary and looking after over all development of Monkey Radio India. Monkey Radio India website manager Sushant Prasad, who works from Chennai. Also Special Thanks to Tilos Radio, Hungary, which provides us a lot of inspiration and support.
We welcome every one of you, whether you are a king or a pauper, to join us in this wonderful party and make it a success and take things forward for the future of Hyderabad and India.
Thanks and bigup to all monkey massive, without you all these is not possible
Monkey Foundation, India