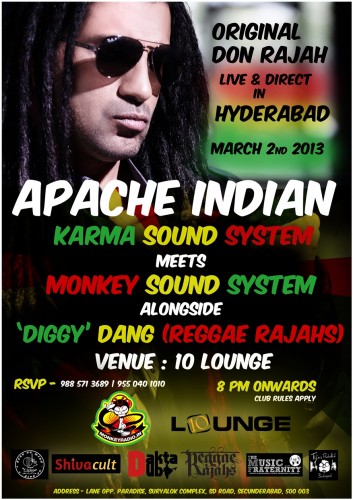 Date & Venue:
March-02-2013 @ 10 Sports Bar & Grill
Main Act: Apache Indian
Supporting Deejay/MC : Diggy Dang
Toasting/Beat Boxing: Irieboy
Chief Selector : Daktadub
Visual Performance: Shivacult
The founders of Monkey Foundation have been hosting parties in Hyderabad over the past couple of months. Selectors, Visual Artists and Beatboxers and MCs coming together and jamming to create art that Hyderabad has seldom seen before. The parties, titled "Dub'in & Step'in" have carved a niche in themselves, with the help of guest artists from India and abroad such as Kaztet D, Rudy Roots Selekta, NZ Selector, Shire Roots, MC Gringo and Prashanth Pallemoni, who have created memorable nights in Hyderabad over a couple of months.
Along with these highly skilled artists, the Monkey sound arsenal consists of Selectors Dakta Dub, Mr. Nobody and Selekta Chakkra, Beatboxer Irieboy and Visual Artists Shivacult and Eyespy. In association with the venue, 10 Sports Bar & Grill, Dub'in & Step'in has had a couple of highly successful events.
The team is currently working on a mega project, a highly acclaimed artist, the "Original Don Rajah", Om Namah Shivaya fame "Apache Indian". The artist, who plays under Karma Sound System is scheduled to meet Monkey Sound System very soon. A proper UK soundsystem style party has been planned, probably one-of-its kind in Hyderabad. More details shall be posted soon. Until then, Na sdrarovye!