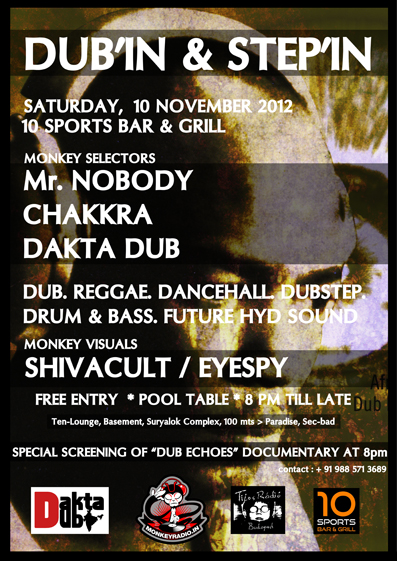 Big thanks to Hyderabad massive for coming over for all Dub'in & Step'in Sessions. This is turning out to be cultural destination for everyone once again.. The Night Of Bass Music and the BAM BAM is ON !! 10th November 2012. Dub, Reggae, Nu School, Dancehall, Dubstep and Future Bass
Special presentation:
DUB ECHOES FILM SCREENING from 8PM. Come to check how DUB changed the evolution of future music of the world.
Daktadub along with his crew comes back to bring the glory of underground music vibrations in Hyderabad.
Line up:
Selekta Chakkra: Nu Roots
Mr.Nobody : Digital Dancehall
Daktadub : Nu Dancehall, Remixes and more,
Visuals :
Shivacult
Eyespy
We can have more music, more dance, more fun, if If cops shows some LOVE
Don't miss, if you love BASS
FREE ENTRY * POOL TABLE * POSITIVE VIBES * EASY SKANKING
In collaboration with Monkey Radio India and Ten-Sports Bar & Grill